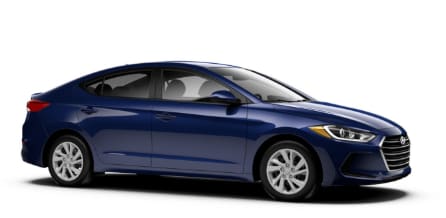 As a non-Hyundai vehicle owner, I am the perfect person to write this blog article and give my opinion. I am not giving any favoritism to the brand I work for (even though I should!). However, after taking the 2018 Hyundai Elantra for a weekend, I was absolutely amazed by the safety and technology features it has. Let's jump into my top 5 favorite features.
Awards and accolades make everything better. Any vehicle that has been awarded safety picks is a true winner in my book. To qualify for 2018 TOP SAFETY PICK, a vehicle must earn good ratings in the driver-side small overlap front, moderate overlap front, side, roof strength and head restraint tests. It also must earn an advanced or superior rating for front crash prevention and an acceptable or good headlight rating. The 2018 Hyundai Elantra won the 2018 TOP SAFETY PICK when equipped with optional the Automatic Emergency Braking and High beam Assist on vehicles built after December 2017. My #1 favorite feature on the Elantra takes me to #2!


Automatic Emergency Braking with Pedestrian Detection! This safety feature acts as a "co-pilot". When it senses a collision or when your attention is elsewhere (in my case, always paying attention to the kids in the back), it is there for you. I would also suggest this awesome "co-pilot" for those teenagers that are just starting out with less experience behind the wheel.


My absolute favorite feature in this vehicle is the Apple Car Play! As a driver of a Chrysler Towne & Country for my growing family... I wish, Wish, WISH every day that I had this value-add in my vehicle (my next vehicle WILL have this feature). When you use your apps constantly, using them in the car is a big no-no because of the unsafe circumstances it can create. However, with the Apple Car Play options and/or Android Auto, all your favorite apps appear conveniently right on your touchscreen, giving you all the functionality you need at your fingertips while keeping your eyes on the road.


Let's go back to safety features! Additional safety options available on the 2018 Elantra is what I would call a must have. Let's be honest, driving today can be distracting. What better way to add value with additional safety features, keeping our precious cargo and investment in safety's hands. Depending on your trim level, would depend on which additional safety features are available.
a. Added Value #1: Blind Spot Detection with Rear-traffic Alert. The Elantra is compared to the Toyota Corolla and Nissan Sentra as the major competitors to this vehicle. The Elantra wins value points here, because the Corolla does not have the option to include blind spot detection.
b. Added Value #2: Rear view Camera with Dynamic Guidelines.
c. Added Value #3: Lane Departure Warning and Keep Assist. And yet again, the Elantra wins here, as the Sentra does not have this additional safety feature.


And my final preferred feature of the 2018 Hyundai Elantra is...drum roll please... the Blue Link Connected Car Service. This feature gives you the options to integrate your other devices with your car. Now your Elantra can be ready to go the second you arrive at your car. With just a tap of your finger or the sound of your voice on your smartphone or smart watch you can remotely lock and unlock your car, start and stop the engine and set cabin temperature. As someone who has lived in Ohio their entire life, and who gets the wonderful Cleveland lake effect weather, this feature is made for us in Northeast Ohioans! The last thing I want to do on a cold -5 degree morning in December is go outside and turn my car on. I can easily wake up, get ready for work, hit two buttons on my Keurig for my coffee, then command my phone to turn on my car and set the cabin temperature. Enough said there. Blue Link comes complimentary for 3 years with any New Vehicle purchase at Crestmont Hyundai too!