State-of-the-art safety and convenience technology.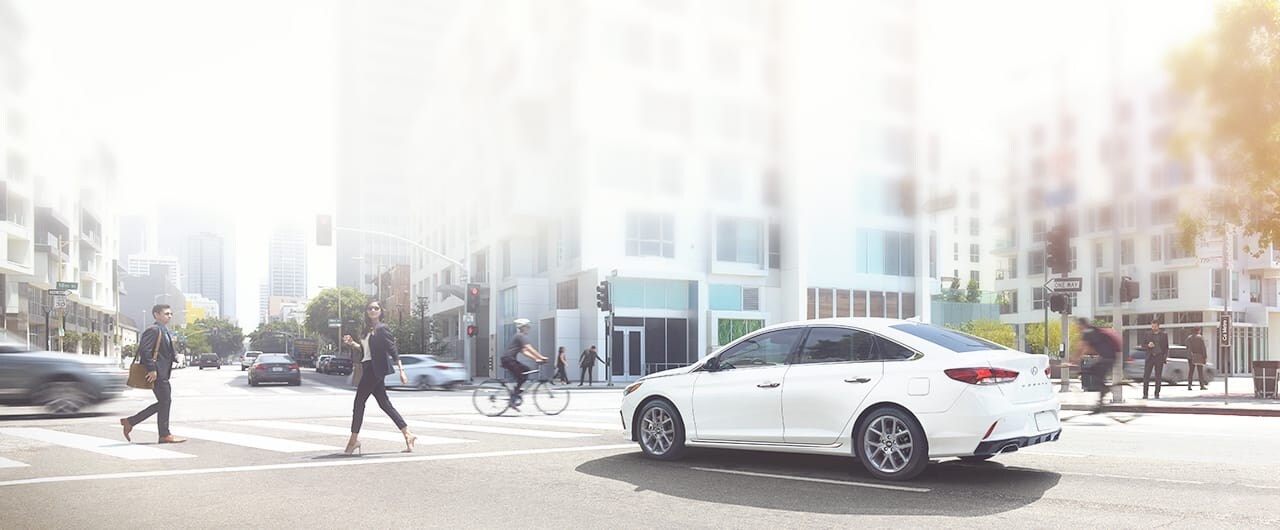 13 innovations. 360 degrees of ease and protection.
For cutting-edge safety and convenience, Hyundai didn't cut corners. Our vehicles completely surround you and your passengers with a wide range of features that automatically look out for you. From cameras to ultrasonic sensors to radars, our sophisticated network acts as extra sets of eyes when you drive or park. You'll know it as peace of mind. We call it Hyundai SmartSense.

Forward Collision-Avoidance Assist -

The moment it detects a slowing or stopped vehicle in your path, your Hyundai will warn you of a potential collision. If you do not stop in time, the system will automatically apply emergency braking to help avoid or reduce the severity of a collision.
Blind-Spot Collision-Avoidance Assist -

If your Hyundai detects a vehicle in your blind spot while your turning signal is on, it will automatically apply the left or right front brake before you change lanes.
Driver Attention Warning -

To help prevent potential accidents, this system monitors your driving patterns to detect drowsy or inattentive driving. Once detected, it alerts you with a sound cue coupled with a warning message on the instrument panel.
Blind-Spot Collision Warning -

Your Hyundai notifies you with a visual alert when its radars detect a vehicle in your blind spot area. If you try to change lanes in this situation, an audio warning will sound.
Lane Keeping Assist -

Your vehicle warns you through audio and visual cues if your vehicle drifts out of its driving lane without signaling. If necessary, it will gently apply corrective steering assistance to keep you inside the lane.
High Beam Assist -

Constantly turning your high beams off and on can be a hassle, which is why this thoughtful feature automatically does it for you. It can detect oncoming vehicles and also when they're no longer there, toggling between high and low beams accordingly.
Safe Exit Assist -

This pioneering innovation prevents your passengers from stepping onto the road when its radar detects a vehicle approaching from behind. If necessary, it will override attempts to deactivate the Electronic Child Safety Lock until it's safe for your child to open the door.
Smart Cruise Control-

While traveling at a speed set by you, it uses radars to maintain a safe distance from the car ahead. When your Hyundai slows down to 6 mph or less, the cruise control automatically turns off.
Rear Cross-Traffic Collision Warning-

To help make reversing safer- especially when you're backing out of a parking space with limited visibility- the Rear Cross-Traffic Collision Warning lets you know if its sensors detect a vehicle approaching from left or right.
Rear Occupant Alert-

As the engine is turned off, a visual warning in the instrument cluster reminds you to check the rear seats before exiting.
Ultrasonic Rear Occupant Alert -

As the engine is turned off, a visual warning in the instrument cluster reminds you to check the rear seats before exiting. Additionally, overhead ultrasonic sensors monitor the backseat area to minimize the risk of a child or pet accidentally being left inside after the vehicle is parked and locked. If sensors detect movement, the horn will honk, lights will flash and your smartphone will receive an alert through Blue Link.
Remote Smart Parking Assist -

Our autonomous system allows the Hyundai to park itself, even when you're not inside the vehicle. Once you get out,, the self-parking function can be started with a push of your smart key button. You can also summon the car out of its parking spot the same way. With an innovation like this, the future feels even less remote.
Highway Driving Assist -

Your "co-pilot" for highway driving, when actively engaged with Smart Cruise Control or Lane Following Assist, this smart convenience automatically helps keep you centered in your lane and traveling at a safe distance behind the car ahead. Not only that, it also can keep you driving at the right speeds, automatically setting your pace based on GPS and highway data.
Safety features are enabled on select vehicles. Features are not a substitute for safe and attentive driving. System effectiveness depends on many factors, such as speed, size and position of pedestrians, driver input and weather, light and road conditions.
See Dealer for details.