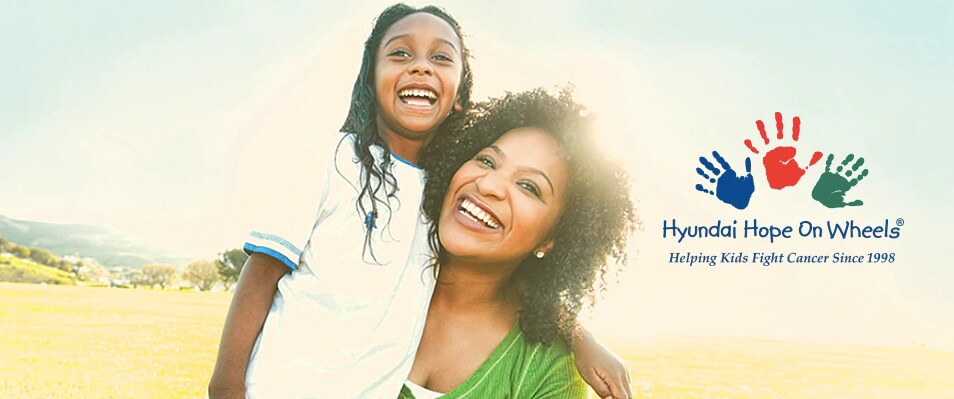 Any owner who has purchased a Hyundai in the last 21 years has given hope to children living with cancer and their loved ones. With the sale of every new vehicle, U.S. Hyundai dealers make a donation to Hyundai Hope On Wheels. These donations are what allow us to provide lifesaving research grants to hospitals across the country with the sole goal of finding a cure. 

 
  
  

Hyundai Hope On Wheels began in 1998 as a partnership between Hyundai Motor America Executives and a handful of its Boston area dealers. Since then, we have grown to encompass the more than 800 U.S. dealers and because of this growth, we will surpass $160 million in life-time donations to pediatric cancer research in 2019.

Together with Hyundai, the dealers, Hyundai customers, and all of the awarded pediatric cancer research doctors, we will continue to fight. Together we WILL end childhood cancer!
How Hope Works
Life-Saving Research
Hyundai Hope On Wheels creates awareness for pediatric cancers and awards large grants to doctors and premiere research centers for life-saving research. This 21-year HHOW commitment awards grants in various categories to researchers at eligible Children's Oncology Group member institutions. The highly-competitive grants are aimed at expanding the knowledge base of the disease and improving the standards of care. We are encouraged by the advances of technology, and by the potential breakthroughs enabling scientists to understand the disease better than ever. We are on target to award $16 million across 2019 in the form of research grants through our:
Quantum Collaboration Award: $2,500,000, a 4-year award

Hyundai Quantum Grant:   $1,000,000, a 4-year award

Hyundai Scholar Hope Grant:  $300,000, a 2-year award

Hyundai Young Investigator Grant:  $200,000, a 2-year award

Hyundai Impact Grant:   $100,000, an annual award